UPDATE 2022-07-06: The very edges of the screen have some weird fringing/can get washed out if the monitor is slightly off-center, say with a dual monitor setup. Noticed after adding it to a workstation.
Welcome back to Techspin, and gaming is back with GPUs also coming back in stock, so we've grabbed another gaming monitor, the LG 32GN600-B 165Hz Monitor for a good price. Word of mouth is LG is known for good panels, and this one is pretty good with SDR at 300 nits, and while this model is a VA type screen, LG does have a higher end monitor with a Nano IPS panel, we might check that out in the near future.
Be sure to check our TLDR to see our warning about brightness and HDR handling before you go. Also, while DisplayPort does support 165 hertz or higher, keep in mind HDMI 2.0 maxes out at 144 hertz so you should plan to use DisplayPort if you want max frame-rates out of your gaming monitor. And helping you get max frame-rates for your gaming is our sponsor, Noctua.
LG 32GN600-B 165Hz monitor: Great Gaming, Terrible HDR
Just a quick reminder, you'll need DisplayPort to get 165 hertz, as HDMI 2.0 maxes at 144 hertz at 1440p. Gamers and shopping sites often call 1440p resolution 2K, however it's actually WQHD or Quad HD, whereas 2K is 2048x1080p, wiki link for more information. If you want to check HDMI capabilities we'll throw in the link for displayninja.com which has a chart about halfway down the page with HDMI resolution and max frame-rate based on HDMI spec.
And if this video helps you, please hit that like and subscribe, give us a quick follow on social media, and if you have questions or find another great monitor or something you want us to check out, leave your comments down below. Any updates will be on the techspinreview.com companion post.
Quick Summary: LG 32GN600-B
So TLDR, the LG 32GN600-B is a flat 1440p VA 165 Hertz panel, having excellent low input lag, and 1 millisecond response with 5 Gray to Gray. The SDR colors are outstanding out of the box, and perfect after calibration. Supporting FreeSync Premium and working with G-Sync over DisplayPort only, the menu is snappy, and the 8 mm pixel to air is pretty good. For gaming, the Response Time or Overdrive setting of Faster does best at 165Hz, and Normal does best at 60 Hertz.
This panel's listed brightness is 350 cd/m2, or nits, but actually delivers just 300 with SDR. This is not market standard, as you'd expect the monitor to deliver normal SDR content at the listed value. Side by side with other 350 nit monitors, this 300 won't be quite as bright. It only hits 350 with HDR10, but the picture is darker, washed out, with only vibrant colors matching SDR levels, and bright whites hitting above SDR at 360 cd/m2. This is not a monitor for HDR. If you're shopping for HDR, you need higher nits, and look for high DCI-P3 coverage in specs- this monitor has none listed.
But that's… not all. The LG 32GN600-B's build quality is good but there's a worrisome stem assembly, only tilt, no speakers, no dedicated power button, and they offer a lot of menu languages, but English was hard to find as it looked like there was just one page with no English- we were just on page 2. Overall, this is still an excellent gaming panel with great 300 nits SDR and response, but better options exist.
LG 32GN600-B Features & Specs
Whereas high end expensive gaming monitors use IPS, VA still has its use keeping entry to mid level gaming panels affordable, which is great for gamers who've just been able to finally purchase a graphics card. The LG 32GN600-B goes for $360 in the US, with a 3 year warranty, which may vary by region. Not available from Amazon in Australia or India, we got ours for 9000nt here in Taiwan.
LG 32GN600-B 165Hz
$360 USD £310 GBP
$380 CAD €315 EUR
$9000 NTD ¥33200 JPY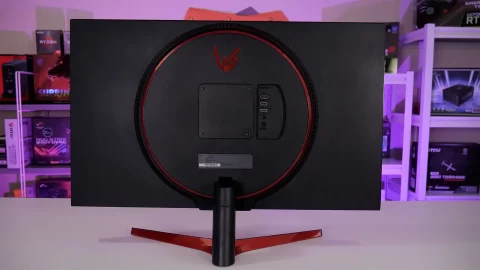 This 31.5 inch 165 hertz edge lit VA panel has a matte non-reflective surface with a 1 millisecond response time, 5 gray to gray, HDR10 handling (ha!) and 10 bit color, which is likely 8-bit plus FRC as LG would likely advertise this as a native 10 bit panel if it was. Contrast is over 3200 to 1 versus the listed 3000 to 1, and the max power draw is 63 watts.
Gaming, watching videos and sRGB media creation is good on the LG 32GN600-B, with 95% sRGB and incomplete DCI-P3 and Rec. 2020 colorspaces according to Rtings.com. Viewing angles are fairly typical for VA with blacks changing around 20* and a brightness loss at 30 degrees both directions, but in real-world testing the screen is still quite usable. Freesync Premium is here, and G-sync is reported to work, nice, over DisplayPort only. Terrific Input lag at 4.2 milliseconds and 4.5 with VRR enabled at 165 hertz, at 60 hertz it raises to 8.7 milliseconds, still great.
As we assembled the panel stem we checked out the monitor and build quality is great. There's no height adjust which would have been super useful with a monitor this size, tilt is -15 to 5 degrees. But because of the design, it's a little scary to tilt up as the monitor screws on through this arm, with only two screws. Most panels use the whole VESA mounting plate or something similar, so when you attach this, and especially adjust the screen tilt, make sure you go easy on the torque. However, the stand is super rock solid with barely any wobble at all. There's a 2 millimeter bezel, with a hair thinner than average black border, for a total of 8 millimeters pixel to air.
LG 32GN600-B 165Hz
-15° to 5° tilt… carefully no height / swivel / pivot / rotate
715 mm wide (no stand)
515 mm high 428 mm
225 mm deep 78 mm … 6.0 kg / 13.2 lbs
Mounting and Control
At 360 bucks or so, having no speakers is a sad omission. The panel delivers 165 hertz well over DisplayPort, and 144 over HDMI 2.0 connection with no issues. In the box there was a power brick, mickey mouse power cable, and DisplayPort cable. This LG 32GN600-B mounts with standard 100 millimeter VESA but you need to buy screws, and the 5-way joystick is centered under the LG logo at the bottom front, but there's no power button which would be handy for troubleshooting.
With normal SDR content and gaming the LG 32GN600-B does very well, colors are great with slight over-saturation and pretty good brightness with accurate white balance, though the color temperature is a touch cool. There's no sRGB mode unfortunately. After calibration it's extremely accurate, and check Rtings.com for their full run-down and profile calibration.
SDR peak brightness minimum is 280 cd/m2, though some less accurate modes may perform brighter. Gray uniformity is excellent with some darkening at the sides, however black uniformity is pretty good with just a little backlight bleed at the bottom of our display, no local dimming here. So this is perfectly fine for gaming, movies, and sRGB media work, though running this 300nit SDR beside other 350nit panels, it won't be quite as bright.
We tested HDR on the LG 32GN600-B using Netflix on our PS4 Pro at 4K, and watching the 'Coastal Seas' episode of Our Planet, the result was rough. Testing monitors at the 300 to 350 cd/m2 level, with HDR we know to expect a very slight overall darkening, with punchier colors and whites. However it was noticeably darker, with the HDR colors barely hitting SDR peaks and only whites punching a little above at 360 cd/m2.
This is kinda like getting to drive a sports car, you're all excited about trying it out, you open the door and have to sit on a milk crate and that's your experience. We re-calibrated on PS4 three times, getting the same result each time. Usually with HDR, there's that "ooooh" when it looks good, but HDR has really poor color volume here from the incomplete DCI-P3 and Rec. 2020 color gamuts. So, don't buy this for HDR.
Furthermore, the model up from this, the LG 32GP850-B you'd figure with its Nano IPS panel would deliver a much improved HDR experience, except the panel hits 430 cd/m2 across the board, and a competing VA panel, can hit 450, delivering a far more competent HDR experience and brightness, and matching this model's price.
Let's get into the LG 32GN600-B's menus, up and down control brightness, left and right control volume for the headphone out, not for the non-existent speakers. Straight press gives you Power Off, Input, Menu and Game Mode, which gives you access to 4 out of the 7 profiles, kind of weird. Input gives an easy toggle…and Power Off works immediately for a 2-step power off.
Menu shows you Hertz and HDR on the top, but no resolution. Game mode has those 7 profiles, Game Adjust has motion blur reduction, Freesync premium, Black Stabilizer and Response time which are grayed out unless you're using the Gamer 1 profile, Cross Hair and Game Reset. Next is Picture Adjust which is full featured, take note of the Six Color axis for fine calibration, and DFC is an automatic brightness adjustment according to screen content.
Input has these options….. And General has 17 Languages… HDMI Compatibility Mode may work with sources better that only use HDMI 1.4, DisplayPort Version is grayed out if using HDMI, Buzzer- there's a beep when you turn on the monitor, and Information gives you your resolution.
In Game Adjust/ Response Time, also called Overdrive, Rtings reports that the Faster setting is best at 165 hertz, and Normal performs best at 60 Hertz, and this also seems to match our subjective testing. Please take a moment to hit like, get subscribed, and click the bell, it supports us making new episodes, and you'll get notified when we release new videos.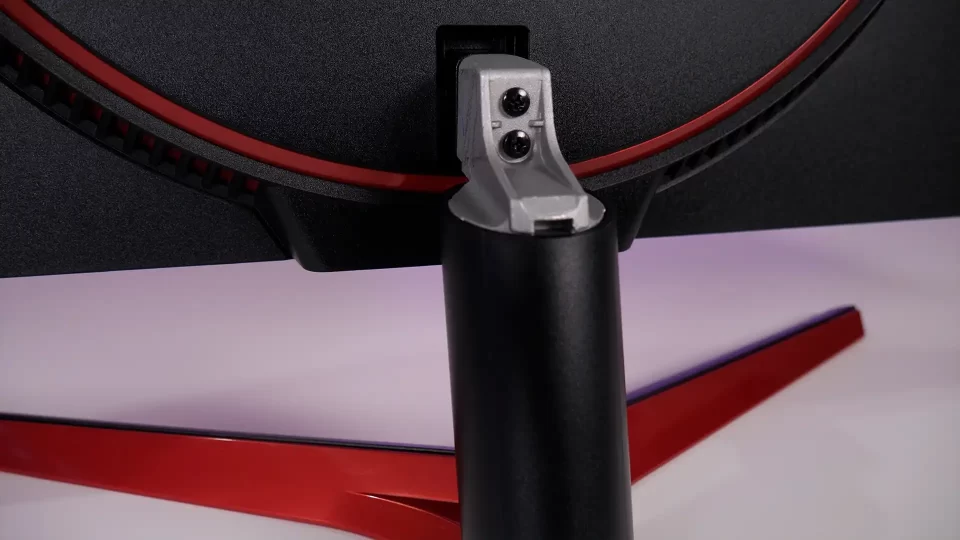 LG 32GN600-B Summary: It's great, but…
So the LG 32GN600-B is a great gaming monitor. It has good color accuracy and the picture quality is also good, and with low input lag and 165 hertz refresh, it's suitable for professional gamers, even though you may get some blurriness or artifacts in transitions to and from dark scenes. We tried it a bit with PS4 Pro at 4K and that looked good, and it should work equally well with newer Xbox and PS5.
While HDR10 handling is advertised for this LG 32GN600-B, the reality is that monitors deliver SDR at the cd/m2 or nits the panel is rated for, and then boost to get the added brightness for HDR, usually by 100 nits or more. LG on the other hand, lowers overall brightness and shows full white just a bit above original brightness. This shows LG's incompetence with HDR implementation in this monitor, so don't buy this if one of the primary reasons is watching HDR.
However if you want to do photo and media content creation in the sRGB colorspace, this panel is a decent pick, as colors have really terrific accuracy, and outstanding accuracy after some fine tuning. After we found English in the menu setting, controlling the monitor was fast and snappy, however we like it when we can check the resolution and hertz easily, a missed opportunity as HDMI 1 displays but no resolution, and the main menu shows everything but this. The LG 32GN600-B has great build quality except for the stand, which only attaches with two screws, so definitely go easy on adjusting tilt and placing down the monitor.
This is a solid gaming and mixed use monitor. Though the lack of speakers sucks at the $360 dollar price tag, most gamers will likely rock a headset or a speaker/USB mic setup. However, in the less is more category, LG gets points for having no splash screen, which we usually try to disable. So well done LG, for not including that.
One huge credit we'll give to LG is that the menu doesn't require a live input for access, and we wish more monitors did this. On most, if you're troubleshooting especially with HDMI wires, most will give you momentary menu access before hardware turning off the panel, but this LG stays on and you have unlimited time. This is a very nice feature which we appreciate.
And for camera usage, the LG 32GN600-B does accept 4K at 24 frames, popping up a dialog to tell you about the resolution mismatch which we really appreciate. This is great for reviewing footage in an emergency, we tested this with a Lumix G9.
So to summarize, yes, the LG 32GN600-B 165Hz is a good gaming monitor with lots going for it if you never need to use HDR. If you're doing media creation and are looking for a good affordable screen, we'll throw the link up top right for recent monitors we've tested, our favorite is the Acer 4K but the Samsung 4K is likely an easier to find option.
If you do decide to pick one of these up, shopping through our affiliate links will help us here with no extra cost to you. And follow us on Twitter, Instagram and Facebook at techspinreview.. A big thanks to Noctua for being our sponsor again this episode, we're using their high static pressure fans to cool the hard drives in our Fractal Define R5 NAS build, and they're perfect for cooling your rig.
Are you playing some Fortnite or Elden Ring? Did you find a good monitor or a sweet deal you wanna share? Join the discussion in the comments. And we're interested to hear what you want to see reviewed. Please take a second to hit Like, subscribe, the bell, and we read and reply to a lot of comments so if you have a question or if we missed something, please tell us down below.
See more LG products, Monitors, Keyboard/mouse reviews